Medtech, Pharma, Life Sciences, & Biotech Companies
A Path to Investment Success
Discover the Power of




Regulation A+, D 506(c), CF
If you are looking to raise up to $75M using Regulation A+,
don't miss out on this opportunity to be part of a financial revolution.

Book a FREE Call to get a Capital Raising Consultation and get access to our exclusive fundraising resources:

• CPVS™ White Papers
• CPVS™ Sample Documents
• Video Presentation on Funding Strategies
Get Access to CPVS™ Resources
Schedule a Call & Get FREE Access to Our Exclusive CPVS™ Resources:
Presentation Video, White Papers, and Sample Documents.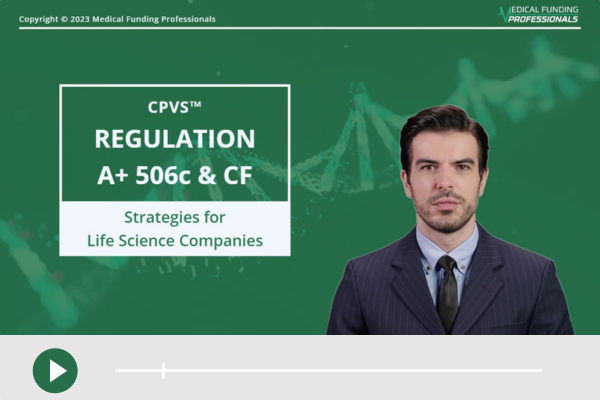 Video Presentation on Funding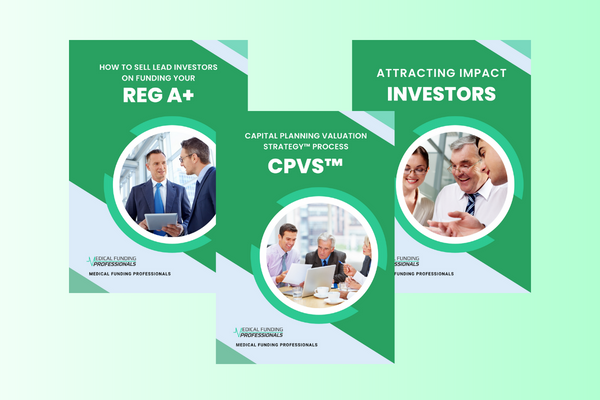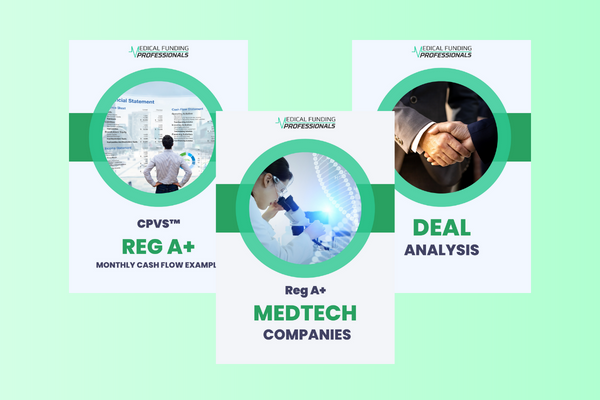 You are an owner of a

medtech, pharma, life sciences, or biotech

company and you want to

raise up to

$75 million

without sacrificing control to outside investors.
But…

• You are having trouble choosing a fundraising strategy that aligns with
your business goals, timing constraints, and liquidity needs

• You have questions about Blue Sky Laws and how to navigate the complex
regulatory requirements of a capital raise

• You are confused about the various types of Regulation Offerings
and how they differ from traditional methods of raising capital


Rest assured, the experts at

CPVS™

are here to assist you in finding solutions to the capital raising issues you might face as a business owner. Whatever the stage of your company –

product development, clinical trials, post-approval, commercialization, or expansion

– we'll design a fundraising strategy that fits your needs.

With over 22 years of experience providing capital planning and advisory services for startups and mid-market private and public companies, we come equipped with all the tools to meet your

fundraising

and

capital market

objectives.


How Capital Planning Valuation Strategy™
Can Help You


CPVS™ – Capital Planning Valuation Strategy™ is

a 6 week process

designed to help business owners like you decide whether a

Regulation A+ offering, a 506(c), or a CF

is right for them. The process establishes a powerful foundation for decisions about your company's future capital funding efforts and provides a path to maintain control of your company while building a blueprint for a successful offering.

We developed a comprehensive assessment that will inform you about the

JOBS Act

and how to capitalize on the unique advantages of

Regulation A+, 506(c), and CF

which include access to a wider capital market and more diverse investor community, the potential to raise significant capital without sacrificing control, a simpler and more streamlined fundraising process, monetization opportunities, lower compliance burden, and above all, lower cost to you.

Ou

r CPVS™ Assessment

is the easiest and most efficient way for companies to determine their funding requirements and identify the optimal method of raising capital.

But before going any further, we'd like to share with you our

video presentation

on funding strategies as well as our educational

white papers

and

sample documents

, all of which you can access for free by scheduling a call with us. This is the first step on your fundraising journey with Regulation A+, 506c, and CF, and the first step towards unlocking your full capital raising potential.
What's Next…?
Only
3

Steps
Are You Ready?
Let's catch up this or next week to discuss about your company status, different fundraising options, and show you everything in detail. You can schedule a time with me here by choosing a specific date and time that works for you.

You will also get a resource email and you can review our exclusive fundraising white papers, sample docs, and presentation video right now.