Medtech, Pharma, Life Sciences, & Biotech Companies
.
A Path to Investment Success
Discover the Power of


Regulation A+, D 506(c), CF
.
If you are looking to raise up to $75M using Regulation A+, don't miss out on this opportunity to be part of a financial revolution. Start your journey with Regulation A+, 506c, & CF today and unlock a world of investment potential.
Take a moment and view our fundraising video, white papers, and sample documents.
CPVS™ Resources
Raising up to $75M doesn't have to be a complicated process. Please review our CPVS™ video presentation, white papers, sample documents, and worksheets to see exactly what we will build for your capital raise.
Take a moment to explore the various resources we have put together for you.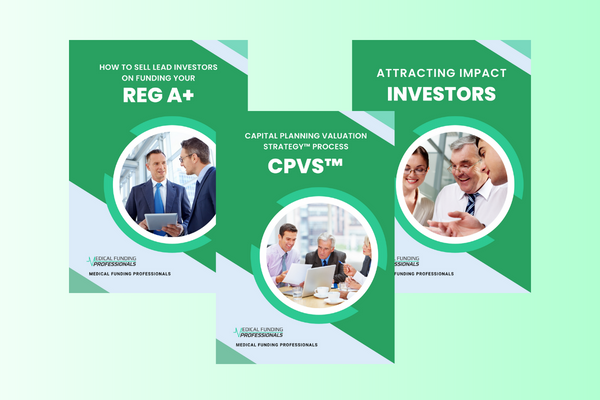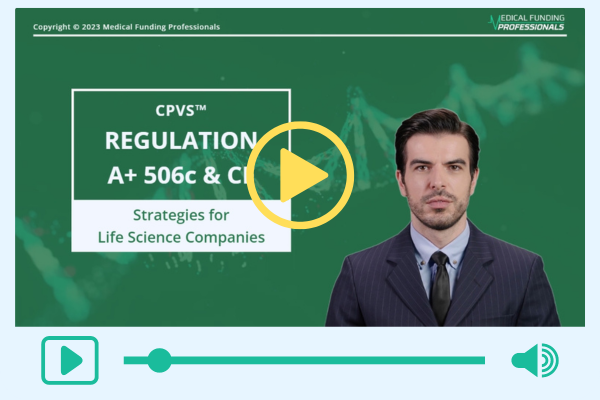 Video Presentation on Funding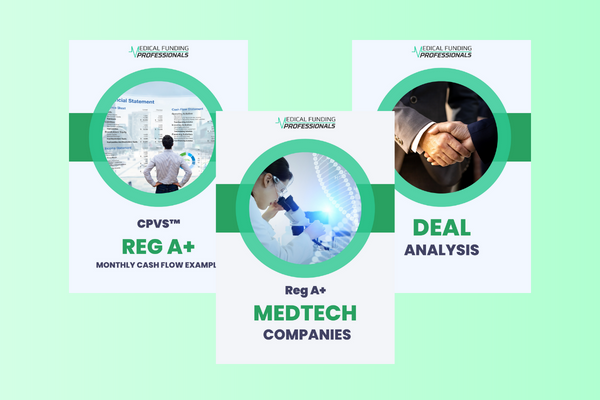 CPVS™ Presentation
Watch a Fundraising Presentation
View a sample of a fundraising video presentation that we prepared for a company looking to raise up to $75M using Regulation A+. Learn what Regulation A+ is and how it benefits businesses.
Schedule a FREE Call
View Our White Papers

View Our Sample Documents

Capital Raising Assessment
For Medtech, Pharma, Life Sciences, & Biotech Companies

If you are an owner of a medtech, pharma, life sciences, or biotech company and you're looking to raise up to $75 million without sacrificing control to outside investors, you have to prepare for one of the most important decisions you can make for the future of your business: Raising Capital


But first, let me ask you a few questions,

• Are you having trouble choosing a

fundraising strategy

that aligns with
your business goals, timing constraints, and liquidity needs?
• Are you concerned about

Blue Sky Laws

and how to navigate the complex
regulatory requirements of a capital raise?
• Are you confused about the various types of

Regulation Offerings

,
what they cost to execute, and how they differ from traditional methods of
raising capital such as VC or Angel investment?



Rest assured, the experts at

CPVS™

are here to assist you in finding solutions to the capital raising issues you might face as a business owner. Whatever the stage of your company-product development, clinical trials, post-approval, commercialization, or expansion – we'll design a fundraising strategy that fits your needs.


With over 22 years of experience providing capital planning and advisory services for startups and mid-market private and public companies, we come equipped with all the tools to meet your fundraising and capital market objectives.



How Capital Planning Valuation Strategy™
Can Help You

CPVS™

– Capital Planning Valuation Strategy™ is a 6 week process designed to help business owners like you decide whether a

Regulation A+ offering, a 506(c), or a CF

is right for them. The process establishes a powerful foundation for decisions about your company's future capital funding efforts and provides a path to maintain control of your company while building a blueprint for a successful offering.


We developed a comprehensive assessment that will inform you about the

JOBS Act

and how to capitalize on the unique advantages of

Regulation A+, 506(c), and CF

which include access to a wider capital market and more diverse investor community, the potential to raise significant capital without sacrificing control, a simpler and more streamlined fundraising process, monetization opportunities, lower compliance burden, and above all, lower cost to you.


Our

CPVS™ Assessment

is the easiest and most efficient way for companies to determine their funding requirements and the optimal method of raising capital.
Did You Know…?
Regulation A+ allows companies that want to raise up to $75 million to do so from anyone – regardless of assets and income levels.
We believe that

Regulation A+ , 506(c), and CF offerings

should be in the toolbox of every founder, owner, CFO, and Treasurer in the United States. As such, we've partnered with leading advisors specializing in Reg A+, 506(c), and CF to deliver a seamless and integrated capital funding solution for your company.




I would love to discuss your funding strategy.
Schedule a FREE Call